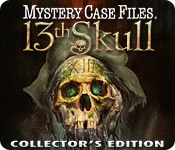 Mystery Case Files ®: 13th Skull ™ Collector's Edition

Shortly after moving into a creepy mansion in Louisiana, Sara Lawson is struck with tragedy when her husband mysteriously disappears. Sara's daughter, Magnolia, believes her father was kidnapped by the ghost of a vengeful pirate seeking to protect his lost fortune. With the locals terrified of the pirate's curse, you are the family's last hope. Only a Master Detective with incredible Hidden Object skills can locate Marcus Lawson in Mystery Case Files: 13th Skull!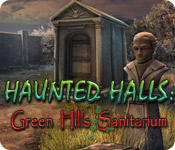 Haunted Halls: Green Hills Sanitarium

Explore a decrepit mental asylum and find your missing boyfriend in Haunted Halls – Green Hills Sanitarium! After hearing about some wrong doings at the asylum, your boyfriend, Tim, takes off to conduct an investigation of his own. As Tim dives deeper and deeper into the mystery, his letters to you abruptly stop coming. Set off to the Haunted Halls and find him in this incredible Hidden Object Puzzle Adventure game!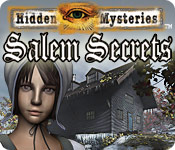 Hidden Mysteries: Salem Secrets

Help Constable Hawthorne investigate the rumors of witchcraft in Hidden Mysteries – Salem Secrets, a fun Hidden Object Puzzle Adventure game! Four young girls have been suffering from an outbreak of mysterious fits and bizarre tantrums. Rumors abound that the girls have been "afflicted" by local practitioners of Witchcraft, but nobody has yet been charged or tried. Investigate the scenes and uncover the Hidden Mysteries!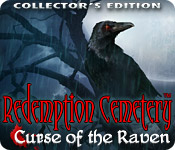 Redemption Cemetery: Curse of the Raven Collector's Edition

After getting into a car accident, you wander into a mysterious graveyard while searching for help. The doors slam shut behind you and you realize that you are trapped! Escape from the eerie Redemption Cemetery by helping trapped spirits save their loved ones, and free their souls! Use your Hidden Object skills to help these ghosts and escape, in Redemption Cemetery – Curse of the Raven!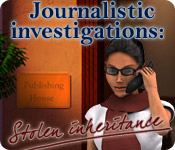 Journalistic Investigations: Stolen Inheritance

Help Mary save her friend Lora's wedding! Lora's inheritance has been stolen, and now Mary must crack the case and catch the crook! Explore interesting locations as you search for clues and try to figure out who exactly stole Lora's artifacts, and what they want to do with them. Solve perplexing puzzles to advance, and make sure to keep your eyes peeled in Journalistic Investigations – Stolen Inheritance!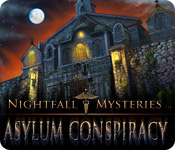 Nightfall Mysteries: Asylum Conspiracy

Help Christine explore the spooky Ashburg Asylum and find her missing grandfather in this dark Hidden Object game! Travel to the eerie grounds of Ashburg and work your way through spine-chilling locations. Solve unique puzzles to progress deeper into the asylum, and closer to Christine's grandfather. Meet interesting characters, unravel a mystery, and uncover an evil plot in Nightfall Mysteries: Asylum Conspiracy!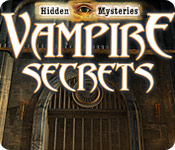 Hidden Mysteries: Vampire Secrets

What was intended as a relaxing vacation to Savannah, Georgia for Claire Donnelly, quickly turned into one of adventure and mystery! Upon her arrival, Claire started experiencing unusual visions, which grew to vivid depictions of evil forces living among the citizens of Savannah. Help Claire explain these terrifying visions in Hidden Mysteries: Vampire's Secrets, a dark Hidden Object Adventure game.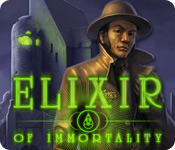 Elixir of Immortality

Journey to a foreboding island as you go on the hunt for a murderer in Elixir of Immortality, a fun Adventure game! Gather evidence and track down the criminal before they strike again! Discover ancient secrets as you explore the mysterious island, and find the legendary Elixir of Immortality that so many have tried to find! Do you dare drink the Elixir?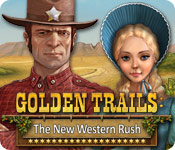 Golden Trails: The New Western Rush

Saddle up for fun and become a sheriff in Golden Trails: The New Western Rush. Use your Hidden Object talents to find the culprits behind a bank robbery, and bring them to justice. Play innovative minigames as you explore intriguing storylines and meet unique characters. Immerse yourself in the amazing atmosphere of the legendary Wild West, and catch the crooks in Golden Trails: The New Western Rush.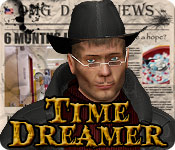 Time Dreamer

Travel back in time with Time Dreamer in this fun and exciting Hidden Object game! Help our hero travel to the past and save his father, and even the world! Use this special ability for good as you attempt to make the future a worthwhile world to live in! Explore gorgeous scenes and find Hidden Objects to progress through your journey and succeed.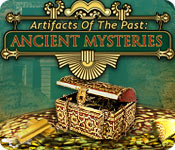 Artifacts of the Past: Ancient Mysteries

Help Doctor Artifact launch an expedition! Equipped with unique devices, research mysterious items and travel across the globe! Strangers from around the world hunt Doctor Artifact down just to have their relics examined. Carefully decipher the artifacts in a special lab and watch as amazing and breathtaking stories unfold in Artifacts of the Past – Ancient Mysteries, a fantastic Hidden Object game.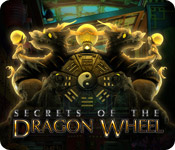 Secrets of the Dragon Wheel

Help Epiphany O'day sneak on board the luxurious and dangerous Imperial Majestic to stop murder and mayhem in its tracks! After being laughed out of her university, Epiphany is on the track of the ancient and mysterious Dragon Wheel artifact, known for having an enormous amount of evil energy. Travel from Europe to the exotic far east in Secrets of the Dragon Wheel, a fun Hidden Object game.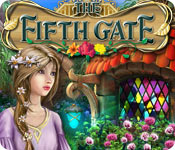 The Fifth Gate

Brace yourself for a world of magic and potions in The Fifth Gate, a gripping Time Management game! Eden is trapped in the gardens; her only hope of returning home is restoring the gardens and unlocking five magical gates. Plants are growing, pests are coming, potions need to be made, and it's your job to help Eden tackle them all before time runs out! Can you bring the gardens back to life and free Eden?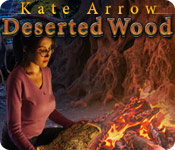 Kate Arrow: Deserted Wood

Return a valuable idol to a tribe in Kate Arrow Deserted Wood! Help Kate travel deep into the jungle and find her grandfather in this fun Hidden Object game. Pack your bags and use your wits to avoid dangerous situations, and make it through a plane crash! Track down your grandfather and deliver the powerful idol that he has promised to the tribe that saved his life many years ago. Set off on adventure in Kate Arrow Deserted Wood!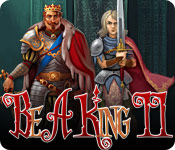 Be a King 2

Step into the shoes of a benevolent leader! Construct new buildings and defend your kingdom from incoming raiders in Be a King 2! Save your father's kingdom as you rebuild villages and towns and attempt to restore peace and prosperity. Defend your minions from hordes of monsters and groups of bandits in this fun and exciting Strategy game. Dive into this fantasy world and Be a King!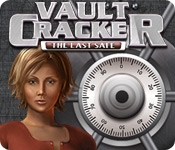 Vault Cracker: The Last Safe

Melissa lives an ideal life with her eight-year-old son Noah. But she's no ordinary mom; she was once one of the most sought-after cat burglars in the world. But she gave up a life of crime and found a new identity. After years of living abroad under a false identity, she decided to make a trip to her hometown and show her son where she grew up. Melissa must find her son, figure out who's behind his kidnapping, and stay off the police radar in Vault Cracker The Last Safe, a fun Hidden Object game.